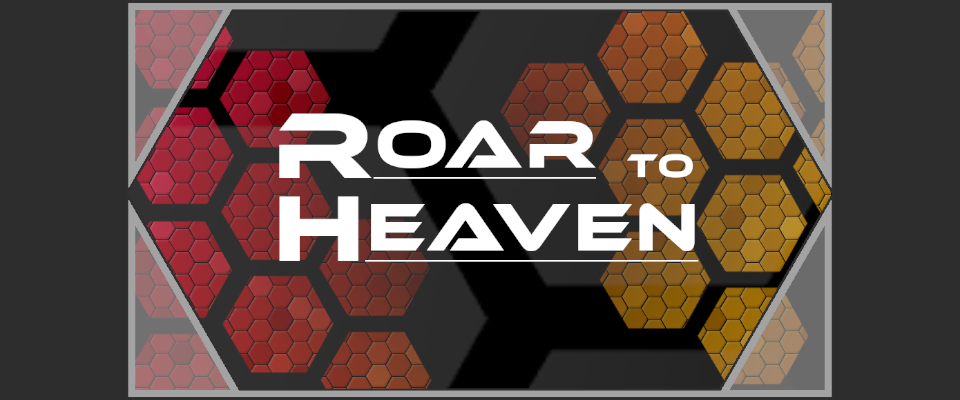 Roar to Heaven Backer Set
Backer Rewards Package
This package contains all the digital rewards for Roar to Heaven! In here you will find:
A digital copy of Blazing Hymn
The Blazing Hymn quickstart guide
A digital copy of the brand-new Blazing Hymn expansion Ashes to Ashes
The new Itch-Exclusive Hymnal Type 10 - Kusarigama Type!
The entire Roar to Heaven Session 0!
Ashes to Ashes
Ashes to Ashes is an expansion featuring brand-new material for Blazing Hymn!
Three new Hymnals: the elegant Archer, the sturdy Bo and the crafty Garrote.
New Angels and Nephilim, including the deadly Choirmaster
Rules for letting your supporting NPCs help in battle
Sample organizations such as ASHES, the After School Heretical Extermination Squadron.
Roar to Heaven Cast
Cat McDonald [They/She] is the Canadian writer of Blazing Hymn, and will be the Game Master of Roar to Heaven. They are the host of the award-winning podcast Sword of Symphonies (Best Actual Play Not Playing D&D and Best Ensemble Cast at the 2021 New Jersey Web Fest). Cat themself was nominated as Best GM at the New Jersey Web Fest.
Cat has run a successful Kickstarter earlier in 2021 – the Reality TV TTRPG I Came Here to Win. They also organized Solo But Not Alone, a bundle of singleplayer TTRPGs that raised over $30K to benefit suicide prevention charity Jasper's Game Day. (They plan on hosting a repeat of this in 2022)
Like Sword of Symphonies, in Roar to Heaven Cat will be hosting an AP of a game they wrote. Cat also wrote the popular Carta solo game engine, which has allowed indie designers to build boardgame / ttrpg hybrids of their very own. Unlike the rest of Cat's work, which is typically very gentle and soft, Blazing Hymn is aggressive and forceful.
Cat lives in Edmonton, Alberta, Canada, where they spend their free time doing calligraphy and reading tarot. They're agender and asexual, which may explain why they live like a medieval monk.

Eryn Cerise [She/Her] is a podcaster and video producer who has been jumping from hyper-niche to hyper-niche for most of her life, and will continue doing so for the foreseeable future. Most of her work can be found on YouTube under her creator name, ErynCerise.
Eryn's most notable video work is the media history series Mahou Profile: A History of Magical Girls. The series has garnered popularity and praise for covering areas of the genre less well-known to English speakers.
Currently, Eryn is the GM and producer of SuperIdols! RPG (@superidolsrpg), a narrative play Masks podcast about superpowered teenagers trying to break into the music industry. superidolsrpg.wordpress.com
SuperIdols! RPG participated in the 2021 March Masksness crossover event run by @ProteanCity and won various categories in the 2020 SUPERlatives Awards, including "GM with the Best Custom Moves" and "Team Most Likely to Get into a Dance Battle".
Eryn previously presented panels and events at fan conventions such as Animethon and Otafest for almost a decade, and has appeared as a guest on various other anime-related podcasts, including ANNCast, Sparkleside Chats, LoadingReadyRun's AnoAni, and Zannen, Canada.
Her upcoming projects include voiceover work on the second season of Breathing Space, Fading Frontier, and design work on a tabletop game hack based on SuperIdols! RPG.

Kendrick [They/He] is the GM and producer of a new AP podcast Tales Yet Told. A show dedicated to telling weird and fun stories full of imagination, thoughtful characterization, and inclusivity.
Alongside being a GM, Kendrick is an improv comedian and an award-winning filmmaker having worked on well over a dozen short films, his own feature film, and two webseries. They adore storytelling in all its forms and are constantly seeking out new ways to evolve their craft.
Kendrick's primary claims to fame are a ridiculous bird meme from a few years back and being a videograpger and editor for professional chef and Youtuber Joshua Weissman.
While still relatively new to the TTRPG community, they are excited to make new connections and work on bar-raising projects in an effort to push the community to new heights. You can find Kendrick's podcast at talesyettold.podbean.com, on social media @TalesYetTold, and wherever you get your podcasts.
You can follow Kendrick on twitch where they stream game play and some ttrpg prep at twitch.tv/kendomakesfilms You can also find them as a player on Song of The Bone Kings an AP Stream every Sunday at twitch.tv/lucasgvariety
And soon you'll be able to find them on another AP Stream playing Lancer at twitch.tv/solsroles

Jordan Cuddlefish Nguyen [They/She] is an avid games and education nerd and worker. They can be found in the greater Seattle area working with children and college students in STEM and games design.
They are a relative newcomer within the TTRPG podcasting and publishing community, but is no stranger to TTRPGs. As a larper, avid rpg collector and reader, forever-GM, and massive fangirl of actual play content and hacking content, every week they are probably thinking about design and gaming spaces.
Beyond casually hacking every game she touches, her work in rpg writing includes the 200-word writing collaboration, the Less Than Three rpg challenge, a couple micro games, and testing and writing aspects under Timor Jack Press' Waypoint: On a Fatebound Journey and Gloaming Diaries, both of which are about living fairy tales experiencing magical and dangerous small town life.
For actual play appearances they can be found with Critical Bits' Avatar pro-bending project.
You can tell them hi and chat about Pokemon, game design, or food over at @CuddlefishTweet.

Dillon is the director of Tales from the Tabletop and the GM of it's flagship actual play podcast Edge of the World. Since jumping into ttrpgs their focus has been on dense and evocative world building that pulls from their own interests and inspirations.
Dillon's background prior to getting involved in the ttrpg and actual play spaces was in visual arts and graphic design with minor additional experience in live broadcast media and video post production.
They have made guest appearances on other actual play content such as Theo in Sword of Symphonies, as well as Tempo in the Lancer actual play The Deimos Project. Their particular brand of player character tends to be the moody problem child with a heart of gold.
Dillon's greatest inspirations in their characters and story telling is the evocative but challenging works of anime directors such as Hideaki Anno, Satoshi Kon, and Shinichiro Watanabe. All the while also being deeply in love with the wacky and light hearted genres of Tokusatsu with examples such as Kamen Rirder and especially Godzilla.
You can find Dillon on twitter (@lazers_forever) where they discuss anime and manga more freely as well as on twitch under the same name where they occasionally play video games with pals.
While still being new to ttrpgs compared to some of their cast mates they have a lot of experience dissecting game design and have a passion for breaking down what exactly makes a game fun. They've made extensive homebrew content for 5E D&D and are now working on their own game system, the Heart Engine.
All info about the Heart Engine system, Edge of the World, and even Dillon's lovely friends and cast mates on Edge of the World can be found on TFTTPresents.com and on all other social media under the TFTTpresents name.
Built on the popular LUMEN system by GilaRPGs and inspired by Evangelion and Symphogear, Blazing Hymn is a fast-paced action-heavy TTRPG made to emphasize power-fantasy combat and free-form roleplay in a world besieged by the armies of Heaven.
Build your Hymnal Unit, and choose the songs that you will howl to the battlefield as you fight for humanity's survival.
Purchase
In order to download this Package you must purchase it at or above the minimum price of $25 USD. You will get access to the following files:
BlazingHymnQuickstart.pdf
12 MB
Comments
Log in with itch.io to leave a comment.
is the Type-10 hymnal exclusive to this deal or is it purchasable with just Ashes to Ashes?
Type-10 and Type-11 were planned as backer exclusives, so for right now Type-10 is just available here.
This is excellent on so many levels!
It's excellent to do this through itch,
it's excellent to get Ashes to Ashes
and it's excellent to get the Kusarigama!
*insert Bill and Ted Gif*
★★★★★ 5 Stars - would back again!